Soffit and Fascia play an important role in the structural integrity of your home. Properly installed soffit provides essential ventilation and air circulation to reduce excess moisture that can cause rotting and decay of the roof's structure. It promotes directional air movement through the eaves and rafters of your home, helping it to stay in great shape both inside and out.
Soffit and Fascia are made from a specially formulated alloy that perform like heavier gauge material, this features a smooth, low gloss LoMar polyester finish that will deliver outstanding beauty and protection for your home.  Its low-luster finish and smooth texture will give the rooflines and trim areas of your home a crisp, clean appearance.
Simple Upkeep
Built with easy upkeep in mind, aluminum soffit and fascia feature a heavy-duty construction and resilient finish that requires minimal maintenance. Just a simple rinse with your garden hose will remove most airborne dust and dirt, keeping your raffling and trim areas looking fresh and clean.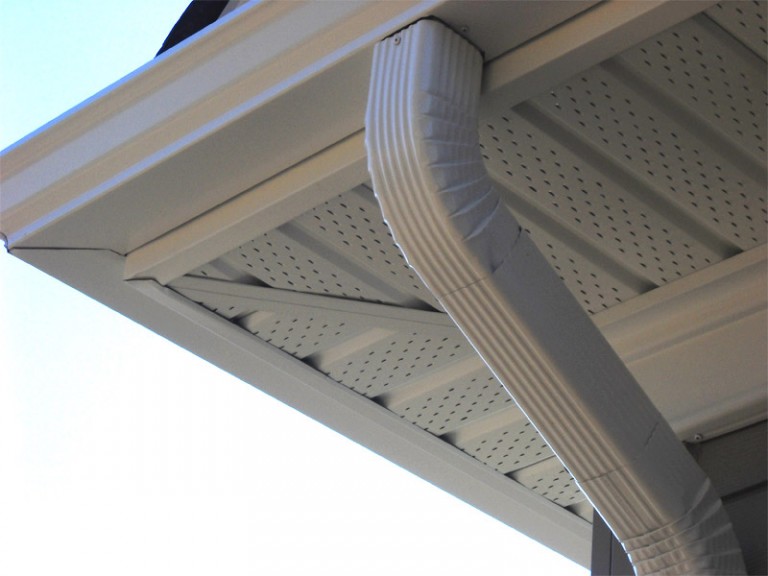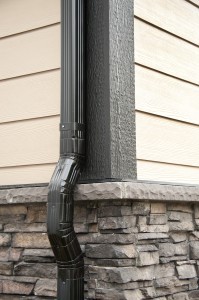 Continuous Eavestrough is a critical component in moving water away from the roof and the foundation of your home. A poor eavestrough installation or settling of your home can cause water to overflow or drain back towards your foundation causing basement leaks and erosion problems. It's important to have the correct amount of eavestrough downpipes at the most effective locations to ensure proper drainage. This can be difficult to achieve depending on the slopes of the house and the location of driveways and sidewalks.  For added convenience, hinged extensions are included to allow you to lift the downspout extension out of the way when mowing the lawn or having a lot of foot traffic.
Professionally installed continuous or seamless eavestrough provides the best results as it reduces the change of leaks, it is also much more visually appealing than a sectional eavestrough where seams are required.  The aluminum eavestrough comes in a wide range of colours and the finish is baked on giving years of resistance to wear and weather.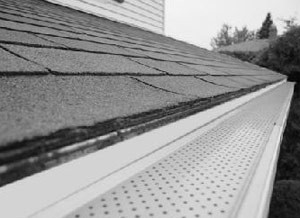 If you are tired of regularly cleaning and maintaining your eavestrough then there is Gutter Guard, also known as Leaf Guard which is an addition to the eavestrough that prevents clogging by leaves and other debris.  The leaves fall on the leaf guard and are just blown away since they sit on the top of the eavestrough level with the roof.