Vinyl Siding is made from a plastic resin that's melted and extruded into sheets. The sheets are then stamped to make them look like wood-fibre. Additives are added to improve impact resistance and resist the fading effects of UV.  Due to improvements in extruding and dying technology, vinyl siding is now available in dark colors and carry lifetime color warranties. No longer limited to just light colors, you can punch up your exterior profile without the heavy cost of upgrading to paintable materials!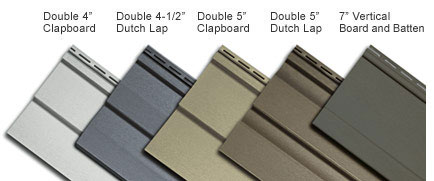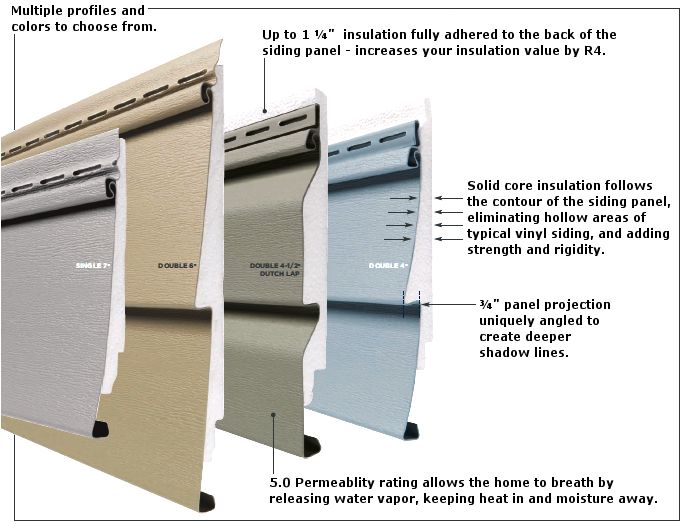 Vinyl Siding can come insulated, this gives you all season insulation, guaranteed durability with impact resistance of up to 300%, noise reduction and resistance to hurricane force winds.  Increase your insulation value by R4.
Insulation can serve many purposes, the obvious being that you want to take advantage of the opportunity to increase your home's R-Value and comfort factor while doing your siding project. With a polystyrene construction this board does not absorb water, is not a food source for mold and will retain its insulating properties over time.  Insulation is also used for renovations when required to layer over an existing stucco or wood exterior.  What the insulation does is create a flat working space to install your new exterior finishing.
Another form of exterior insulation is House Wrap, this prevents outside water from entering your walls and to seal your home keeping the outside air where it belongs.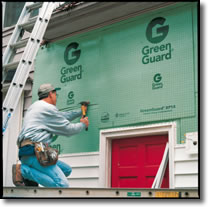 Vinyl Shakes replicate the appearance of cedar shakes without the upkeep.  Vinyl Shakes are available in a wide range of colors and finishes.
Vinyl Shutters are an easy and inexpensive way to add curb appeal.  Available in a wide variety of designs and colors to compliment any house style.  Shutters are custom made, maintenance free with a warranty for 40 years.